本會於本(110)年3月24日召開「中華民國仲裁法修正草案」第二次公聽會,李復甸理事長針對各界反映「為什麼我們需要參照『國際商事仲裁模範法』2006年版本,大幅度修正現行仲裁法」,提出說明如下:
一、仲裁法應尊重當事人意思自主原則:讓仲裁機制運作更具彈性發展空間,且因應實務發展需求,採用國際間通行之仲裁案件會議制度、仲裁審理範圍書、程序時間表、專家證人等,以增加涉外仲裁當事人願意選擇我國為仲裁地,讓台灣之當事人能在自己熟悉的法制文化下維護自己的權利。
二、突破非紐約公約締約方的限制:將模範法條文引入我國仲裁法內,以爭取國際間對我國仲裁法制的認同,增加他國承認與執行我國仲裁判斷承認與執行,保障我國廠商經貿上的權益。
三、回歸機構自治原則:政府在適當範圍內,合理協助仲裁機構各自發展其特色,以與國際仲裁機構並駕齊驅,提升我國友善仲裁的環境。
仲裁法修正草案專案小組共同召集人李念祖律師則就「中華民國仲裁協會仲裁法修正草案」第一次公聽會的意見作摘要性的回應,特別是有關將「外國仲裁判斷」修正為「域外仲裁判斷」之思考邏輯。
除李復甸理事長、李念祖律師,本會仲裁法修正草案專案小組委員孔繁琦律師、林瑤律師、許耀明教授、趙梅君律師委員也出席回答現場提問,居澳洲馬若梅顧問及英國俞鴻玲教授兩位委員亦以視訊方式參與,本會將就各界所提意見再作通盤逐條檢視。
修法小組召集人李復甸理事長發表引言
Convenor of the task force, CAA Chairman Dr. Fuldien Li gives opening remarks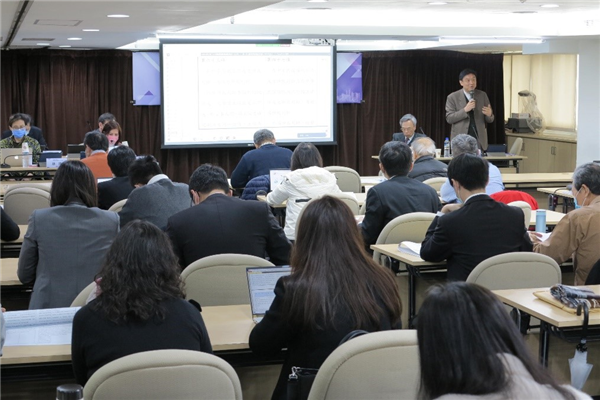 第二次公聽會The Second Public Hearing
On March 24, 2021, CAA held its second public hearing on its Draft Amendment to the Arbitration Law. Dr. Fuldien Li, Chairman of the CAA, explained why a substantial amendment to the existing arbitration law in accordance with the 2006 UNCITRAL Model Law is necessary.

1. The arbitration law should espouse the principle of party autonomy: In order to allow more flexibility in the development of arbitration practice, and to adopt international best practices and instruments, the arbitration law should include case management conference, terms of references, procedural time table, and expert witnesses. These changes will make the law further accommodated for international commercial parties' needs and therefore increase the willingness of foreign parties to choose Taiwan as the seat of arbitration. As a result, Taiwanese parties will be able to assert and defend their rights in the legal culture they are familiar with.

2. In order to overcome obstacles caused by Taiwan's non-accession to the New York Convention: Better incorporation of the UNCITRAL Model Law provisions into Taiwan's arbitration law is essential for establishing Taiwanese arbitral institutions' international recognition and enhancing cross-border enforceability of arbitral awards made in Taiwan.

3. Arbitral Institutions' Governance Autonomy: The government should assist arbitral institutions to develop their distinctiveness and competitiveness in line with international arbitral institutions, and to create an arbitration friendly legal environment domestically.

Mr. Nigel N. T. Li, the co-convenor of the Draft Arbitration Law Amendment Task Force, gave a summary response to the comments made at the first public hearing, particularly the reason behind amending the term "foreign arbitral award" to "extraterritorial arbitral award". The other members of the Task Force, Mr. Frank Kong, Ms. Angela Lin, Professor Yao-Ming Hsu, and Ms. Marianne Chao, Dr. Winnie Jo-Mei Ma (Australia) and Professor Hong-Lin Yu (UK) also responded to questions from the audience.